As a family business we try to provide all natural wholesale
beeswax candles of the very best quality, because candle
making is our passion.
We started Holy Archangel Candles to provide a local source of wholesale beeswax candles for the native Aleut churches.
Since then, we have expanded to provide to beeswax candle lovers
all over the country.
Here you will find not only lovingly hand crafted, all natural,
pure beeswax candles to light your home or church with,
but also a wonderful glimpse into our beautiful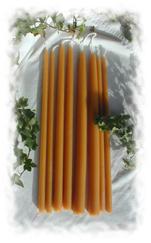 state
We hope that there will be something for
everybody here, from candles, to our picture
gallery, to stories of Alaskan experiences,
and art work.
We truly hope that you enjoy your visit to our
site, and that we can bring a bit of Alaska
to you.