Description
This icon did not become popular until recent times, though the icon on which the copies are based existed somewhat earlier.
It bears the inscription at both sides,
АЗЪ ЕСМЬ С ВАМИ И НИКТОЖЕ НА ВЫ
It is a variant on the biblical line from Romans 8:31:
"If God be for us, who can be against us?"
There is, however, another inscription at the base. It reads:
ЛЕУШИНСКIЯ ПРЕСВЯТЫЯ БОГОРОДИЦЫ
LEUSHINSKIYA PRESVYATUIYA BOGORODITSUI
"THE LEUSHINO MOST HOLY MOTHER OF GOD."
This "Leushino" or "Leushinskaya" icon type takes its name from the Leushinskiy Monastery — actually a convent for nuns — at the village of Leushino. It was founded in 1875. By 1917, about 700 women lived there.
In 1862, when the Leushinskiy Monastery was still under construction, a merchant from Gatchina named Gavriil Medvedev had an icon painted and donated it to the project. It was eventually placed in the new cathedral (1889) that had been built under Abbess Taisiya Solopova.
Some copies of the icon are full-length, and show Mary either seated on a throne or standing, but the most common examples — like the modern image on this page — depict Mary to the waist.
A copy of the icon was also made for John of Kronstadt, who called it Спасительницей России — Spasitel'nitsey Rossii — "Savioress of Russia." Taken to the St. George Kozeletskiy (Danivskyy) convent in Chernigov diocese (now Chernihiv, Ukraine), it developed a reputation as a chudotvornaya image — a "wonder-working" icon (there is more than one supposedly "wonder-working" copy of this type). The popularity of this image grew tremendously in the late 20th-early 21st century, which is why most examples one sees are recent. It is used today in hope for healing of illness, for girls to find a husband, for conceiving a first-born child, for settling family quarrels, and so on. It was placed on the official list of "wonder-working" icons by the Ukrainian Orthodox Church on April 23, 2002.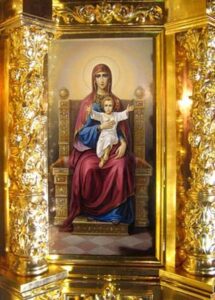 This majority of this information was copied here and full credit belongs to this site
https://russianicons.wordpress.com/tag/leushinskaya-icon/